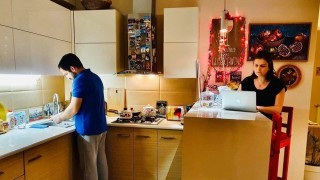 Dec 26, 2021
Gender gap in unpaid domestic care – the case of Georgia
Category
Work
Unpaid household work is an essential type of economic activity that is important for maintaining the well-being of families. Cooking, cleaning, shopping, paying bills, making small or large repairs around the house, assisting, and caring for children and the elderly – all of these tasks are an essential part of the daily life and make us healthier, happier, more productive. Unfortunately, because these activities are not marketed and do not carry a price tag, their value is not reflected in the country's GDP, although the effect of this work certainly contributes to individual and social welfare. Additionally, there is a common perception of them being "non-work", or a somehow inferior type of work.
The COVID-19 pandemic and the associated prolonged lockdowns have changed our lives and perceptions in many important ways. Particularly, during this time people became more acutely aware of the importance of this "hidden" side of economic life. According to some estimates, if unpaid household work were compensated at market rates, it would account for 9% of the global GDP. In some countries this share is even higher: 23% in France and New Zealand, 33% in China, and 14% in South Africa
According to recent surveys, Georgia is characterized by both a high level of women's involvement in unpaid care work and considerable gender inequality in this area. This inequality has a substantial negative effect on women's participation in the labour market, their ability to take up full-time work, as well as their wages. Our policy brief details evidence of this impact and discusses how COVID-19 has changed the gender balance in time-use in Georgia. Lastly, we provide a list of country-specific policy recommendations to address the root causes of the unequal distribution in unpaid household work.
Note: this policy brief is a part of a series produced under FROGEE initiative - the Forum for Research on Gender Economics - supported by the Swedish International Development Agency (Sida) and coordinated by the Stockholm Institute of Transition.