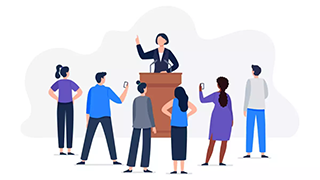 Feb 20, 2023
Women and Political Power in the South Caucasus: Recent Developments in Georgia
Category
Politics
Georgia
Women's underrepresentation in politics persists globally, with women holding only 26.4% of parliamentary seats and 21% of ministerial positions worldwide. The South Caucasus region also lacks female leadership, with the Power domain having the lowest score in the Gender Equality Index. Despite low scores in the percentage of women in parliament, the South Caucasus countries have shown improvement. Georgia leads in women's representation in ministerial positions and the National Bank, while Armenia and Azerbaijan lag behind.
Georgia's population recognizes the importance of women's participation in politics, despite the low levels of representation. Multiple surveys indicate that a significant proportion of respondents believe that the proportion of female parliamentarians is too low, with a majority agreeing that increasing their representation would have a positive impact on the country. Demographic factors such as gender, age, and education influence these views.
The Georgian parliament is made up of 150 members who are elected through a mixed electoral system. In 2020, the parliament approved a mandatory gender quota, requiring parties to nominate at least one candidate of the opposite sex for every four candidates on their party lists. The majoritarian electoral system does not impose quotas, leading to fewer women nominated as majoritarian candidates. Women's participation in the political life of the country is notable, but there is a low number of women in leadership positions in the parliament.